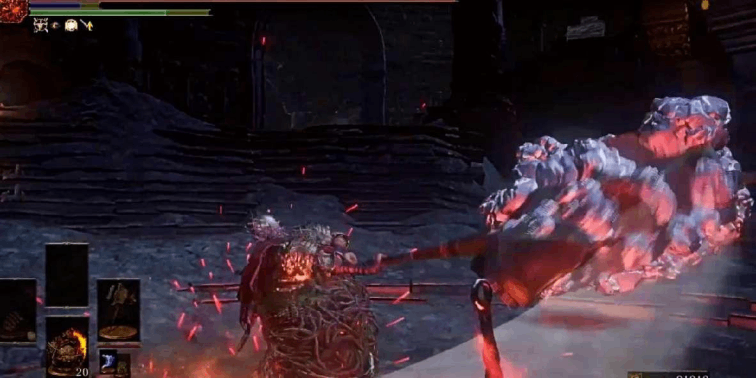 Build Overview
As this weapon requires the wielder to possess 60 Strength to even be used, this build, by Youtuber Games 4 Days, that focuses on using Ledo's Great Hammer will require players to put even more points into this desirable melee stat.
The extra points are worth it, as this build can demolish a great variety of foes at close range thanks to the great hammer's devastating weapon skill, Call to Stone, which essentially turns the player into a living wrecking ball for a few seconds.
PVP Tips
Since Ledo's Greathammer is relatively short, it does not have the best reach with its regular attacks, however, this can be used to one's advantage.
Enemies who acclimatize to this great hammer's range will likely become more and more confident as a duel progresses, though, players can surprise too-close foes with the weapon skill that has a surprisingly far reach and can stun enemies who panic and mistime their dodge rolls. If the player has enough stamina left, they can follow up their Call to Stone attack with regular strikes for an insane and deadly combo.
PVE Tips
Call to Stone is a fun weapon skill to spam, as it always gets satisfying results against most common enemies. Players can clear paths through crowds of weaker foes in singular swings of this great hammer. Furthermore, even bigger adversaries will get stunned on occasion by impacts made by Ledo's Great Hammer. As such, this is a great choice for those seeking a heavy-hitting DS3 Strength build.
Stats
Souls Level: 125
Vigor: 45
Attunement: 10
Endurance: 45
Vitality: 32
Strength: 60
Dexterity: 12
Intelligence: 9
Faith: 9
Luck: 7
²
Equipment
Right Hand: 8
Ledo's Great Hammer +5
Buy Ledo's Great Hammer-(MAX UPGRADED)-(DarkSouls3) - FarmGolds
Left Hand: 8
Caestus +10
Buy Caestus-(MAX UPGRADED)-(DarkSouls3) - FarmGolds
Head: 6
Helm of Thorns
Buy Helm of Thorns-(DarkSouls3) - FarmGolds
Chest: 6
Harald Legion Armor
Buy Harald Legion Armor-(DarkSouls3) - FarmGolds
Hands: 6
Black Witch Wrappings
Buy Black Witch Wrappings-(DarkSouls3) - FarmGolds
Legs: 6
Morne's Leggings
Buy Morne's Leggings-(DarkSouls3) - FarmGolds
Ring 1: 10
Ring of Favor +3
Buy Ring of Favor +3 -(DarkSouls3) - FarmGolds
Ring 2: 10
Wolf Ring +3
Buy Wolf Ring +3 -(DarkSouls3) - FarmGolds
Ring 3: 3
Prisoner's Chain
Buy Prisoner's Chain-(DarkSouls3) - FarmGolds
Ring 4: 10
Havel's Ring +3
Buy Havel's Ring +3 -(DarkSouls3) - FarmGolds