Demon's Souls Boss Guide: How to Beat the Dragon God Boss
Tags: Demon's Souls, Dragon God Boss, Boss Guide, Beat Boss, farmgolds.com, Souls, Weapons,
Share To Your: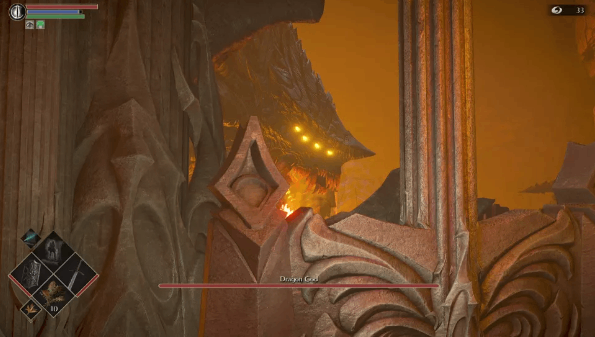 Introduction:
Demon's Souls is a notoriously difficult game, and the Dragon God Boss is one of the toughest challenges you'll face. This massive rock creature is immune to most attacks and can kill you in just a few hits. However, with the right strategy and equipment, you can defeat the Dragon God and claim victory. In this Boss Guide, we'll show you how.
Part 1: What is Dragon God Boss?
The Dragon God Boss is a massive stone creature that guards the end of the Stonefang Tunnel. It has a weak spot on its head that you need to hit to deal damage, but this can be difficult to reach. The Dragon God is also immune to most attacks, and its attacks can kill you in just a few hits.
Part 2: How to Beat the Demon's Souls Dragon God Boss
To defeat the Dragon God, you need to make your way through the level and activate the three ballistae. These will weaken the Dragon God and reveal its weak spot. Once you've done this, you need to use the crossbow to hit the weak spot on its head. Repeat this process until the Dragon God is defeated.
To make the fight against the Dragon God easier, we recommend purchasing souls and weapons from farmgolds.com. This will give you an edge in the battle and make it easier to defeat the boss.


Ending:
With these tips and strategies, you should be able to defeat the Dragon God Boss in Demon's Souls. Remember to stay patient and persistent, and don't give up if you fail a few times. With practice, you'll be able to take down this formidable foe and move on to the next challenge in the game. Good luck!
Demon's Souls Boss Guide: How to Beat the Dirty Colossus Boss
Demon's Souls Boss Guide: How to Beat the Penetrator Boss
Demon's Souls Boss Guide: How to Beat Maiden Astraea
Demon's Souls Boss Guide: How to Beat the Old King Allant Boss
Demon's Souls Boss Guide: How to Beat the Leechmonger Boss
Demon's Souls Boss Guide: How to Beat the Adjudicator Boss
Demon's Souls Boss Guide: How to Beat the Old Hero Boss
Demon's Souls Boss Guide: How to Beat the Old Monk
Demon's Souls Boss Guide: How to Beat the Maneater Boss
Demon's Souls Boss Guide: How to Beat the Fool's Idol Boss
Demon's Souls Boss Guide: How to Beat the Dragon God Boss
Demon's Souls Boss Guide: How to Beat the Flamelurker Boss
Demon's Souls Boss Guide: How to Beat the Armor Spider Boss
Demon's Souls Boss Guide: How to Beat the Tower Knight Boss
Demon's Souls Boss Guide: How to Beat the Phalanx Boss
Demon Souls: Unleashing the Power of Morion Blade
Apr-21-2023