ESO: Where Is Impresario
Tags: eso impresario, eso event merchant, eso impresario location, eso events, eso event tickets,
Share To Your:
The Impresario is a unique and special vendor who will only appear during ESO events. In 2021, you will purchase some new items from her. Tianlein's guide shows you where to find Impresario in the Elder Scrolls Online.
Who Is The Impresario?
The Impresario is a unique and special vendor who will only appear during events. In 2021, you will purchase some new items from her, and the Impresario's stock is changing over time, so you need to check her store during each event.
2021 Event Collectibles
In 2019 and 2020, you could obtain various Indrik Mount variations. In 2021, you will purchase some new items from the Impresario Event Merchant:
Quarter 1 (January - March): Deadlands Scorcher Skin
Quarter 2 (April - June): Deadlands Firewalker Personality
Quarter 3 (July - September): Mount
Quarter 4 (October - December): Player House
Additionally, The Impresario Event merchant also offers unique outfit style pages, unstable morpholith pet, mementos, pets, Furnishings, and more. Keep in mind that The Impresario's stock changes frequently, and you should inspect her wares each event.
Useful Addon: Event Collectibles
It can be tough to track if you have all new event items in your collection. If you play on PC, I can recommend the Addon "Event Collectibles". This addon offers you an account-wide overview of all the event collectibles. You can easily track what items you already have or what you still need to collect.
Impresario Locations
The Impresario Event Exchange tents are located near the starting city of each Alliance's starting zone and also close to the main cities within Chapter zones. You can find The Impresario in the places below:
Near Davon's Watch (Stonefalls)
Next to Vulkhel Guard (Auridon)
Close to Daggerfall (Glenumbra)
Next to Vivec City (Vvardenfell)
Near Alinor (Summerset)
Close to Rimmen (Northern Elsweyr)
Near Solitude (Western Skyrim)


ESO will probably add another Impresario Event Merchant location in the next Chapter, Blackwood. Her stock is the same in every location, so it does not matter where you visit The Impresario.
Philius Dormier – Impresario's Assistant
At the event Exchange tents, you will also find Philius Dormier, the Impresario's Assistant. He is always at the Event Exchange tents and will inform you of the Impressario's presence or absence. Additionally, he offers some unique Furnishings that you can purchase using TESO gold.
How Can You Get Event Tickets?
To buy anything from the Impresario, you need to obtain Event Tickets. Depending on the event, there are different ways to get Event Tickets. Each day, you can earn 1 to 3 Event Tickets once per account. Usually, you have to complete specific quests or tasks to receive your tickets.
How Many Event Tickets Can You Collect?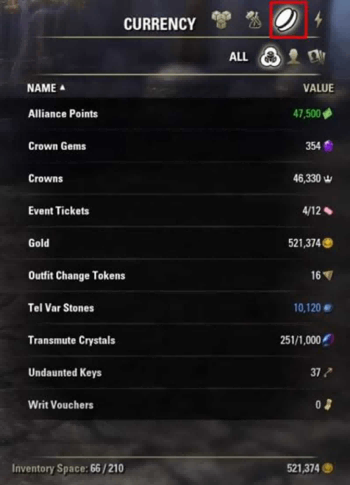 You can find your Event Tickets in your Currency tab, where you also have an overview of your ESO gold, Tel Var Stones, Alliance points, and more. You can only store up to 12 Event Tickets at the same time. Be careful that you always have enough space to pick up your Event Tickets. ESO offers many events during the year, so you will have many opportunities to earn Event Tickets.
Crown Store Event Tickets
You can also obtain Event Tickets with Crowns. Open the Crown Store, and under the "Events" tab, you can find the "Currency" tab. You can use 250 Crowns to buy one Event Ticket. If you want to know more about ESO Events and special collectibles, you can subscribe to Tianlein's youtube channel or bookmark our ESO news page on FarmGolds.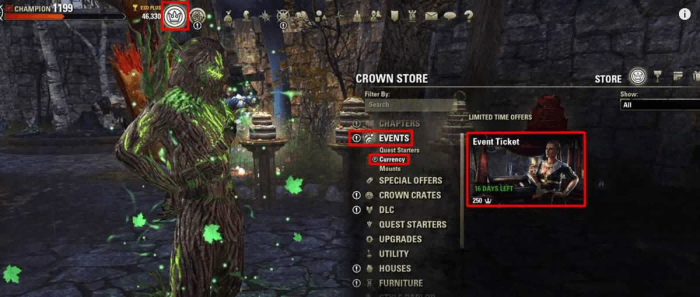 Due to the recent PlayStation maintenance, ZOS has extended the Anniversary Jubilee event on all platforms until Thursday, April 15, at 10 AM EDT. Make sure you don't miss the most effective ways to grind XP and ESO Champion Points during this double XP event.
For console players, you can also buy ESO gold Xbox or ESO PS4/5 gold from our website. FarmGolds is the best place to buy gold for ESO, and at FarmGolds, no customer has been banned so far. If this is your first time purchasing, please check the reviews we received first. We are confident that our high reputation and top-quality service will attract you to place a trial order.
Apr-08-2021