PoE Builds 3.16: Corrupting Fever Tornado Shot Build - Gladiator
Tags: poe builds, poe builds 3.16, poe 3.16 builds, poe corrupting fever, poe tornado shot, poe gladiator,
Share To Your:
"Is there a full PoE Build Guide for that Corrupting Fever Tornado Shot Gladiator people play?" "Of course!" Grimro has made a video on his channel about the build. Today FarmGolds will share this sorting build with you.

Steel Skill Leveling Act 1-4
Level act 1-4 with steel skills use rustic sash weapon recipe. As long as you have the links ready, swap to blood slinger right after killing Malachai in act 4 and hitting level 38.
Use the Act drop down and toggle between acts 1-4.
Bleed Slinger Leveling Act 4-10
After act 4, switch to Kinetic Blast (KB)/Spellslinger setup. Right after swapping to slinger, make sure to respec your melee nodes to the correct nodes on the tree. After swapping to bleed slinger, focus on making sure all of your links are correct. Ensure you stay on top of your resistances and aim for enough resists staying capped after beating Kitava.
Use the Act drop down and toggle between acts 4-10.
Bleed Slinger Leveling Map Gearing
If you have PoE Currency from leveling, consider purchasing the following leveling uniques if they are cheap.
- Le Heup of All
- The Magnate
When hitting atlas, focus primarily on acquiring all of the gear in CF KB League Start PoB. Continue to complete your atlas, but it is secondary to acquiring your basic gear. If you hit a damage or survivability wall, go down a few map tiers, upgrade your gear, and level up your gems.
Upgrade Priority
+1 physical wands
Cluster Jewels
2 Mod Crimson Jewels
Delirium Essence Gloves
If you can't get an item, move on to the next item on the list or settle for 1 mod less or 1 passive point more on the clusters.
Refer to the CF KB LEAGUE START tab in this sheet for crafting advice. Check the prices of sellers versus crafting it yourself.
Pure CF KB Swap
After acquiring most or all of the gear in the CF KB LEAGUE START PoB, you can swap your gem setup and drop spell slinger. Dropping spell slinger will improve your clear damage but decrease your single target by an amount, so don't swap if you're struggling. Swapping to pure CF will allow you to run more auras and get you ready to change to TS after a few more PoE Items. Your gem setup and gear should look similar to the PoB listed here.
Tornado Shot CF Transition
Before swapping to TS, you should ensure that your CF damage will be high enough to be effective. Before swapping, make sure you have the following minimum crafting tips in CF TS MID BUDGET tab.
- 6L redeemer aura chest
- A damage focused amulet with the no mana cost focus mod +1 or multi is fine
- Level 1 empower (higher lvl the better)
- 6L crafted bow
- Projectile speed frenzy quiver
Upgrade everything else in the sheet listed with **New** using instructions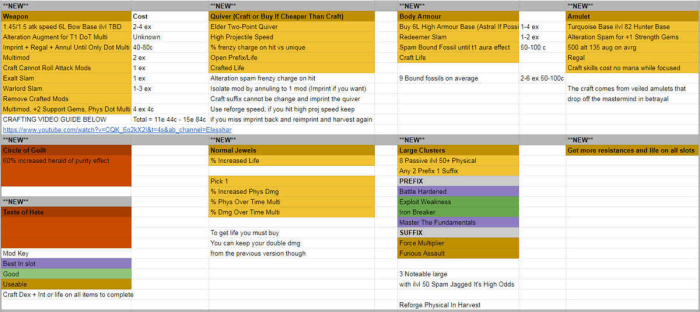 It's important to note you will still be a squishy TS build at this point but with insane clear and good dmg.
CF Tornado Shot Upgrading
Work towards the high budget PoB the following changes will have the biggest impact.
- Pick up and endure small composure cluster and take endurance charges.
- Acquire a level 3-4 empower for massive damage gains.
- Craft an awakened +2 amulet and anoint charisma.
- Acquire an enlighten 3 and, combined with the amulet, turn on the determination.
- Acquire a 2 mod herald of purity ring.
- Pick up a 1 or 2 mod watcher's eye for damage and defence.
- After gaining damage, respec your tree bit by bit to drop the damage nodes on the tree for defence.
- Finish your perfect clusters for Armour, Chaos res, life, and resistances.
Round out the rest of the upgrades from the PoB and crafting sheet.
CF Tornado Shot MAX
If you made it this far, you know exactly what needs to be done. See you on the other side of wave 30 simulacrum.
Here is the end of this build. I hope this can help you a lot, and enjoy your path!
Nov-18-2021