The Best Demon's Souls PS5 Class for Beginners: Temple Knight Class
Tags: Demon's Souls, PS5, Temple Knight class, beginner, advantages, disadvantages, tips, souls, weapons, Farmgolds.com,
Share To Your: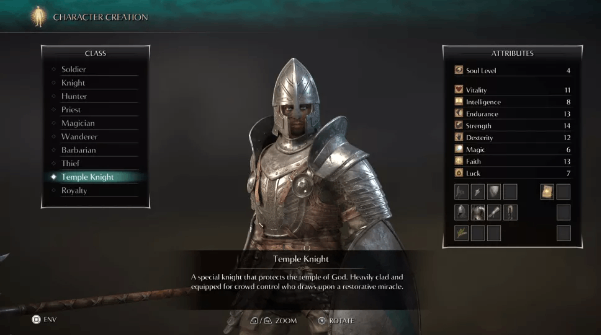 Are you new to the world of Demon's Souls on the PS5 and trying to figure out which class to choose? Look no further than the Temple Knight class. In this article, we'll break down the advantages and disadvantages of this class, provide tips for players just starting out, and recommend a trusted source for purchasing souls and weapons.
Introduction
Demon's Souls on the PS5 is an intense and challenging game that requires careful planning and strategy. One of the most important decisions you'll make as a player is which class to choose, as it will determine your abilities, strengths, and weaknesses throughout the game. The Temple Knight class is a great choice for beginners, offering a balanced combination of offense and defense that can help you survive even the toughest battles.
Advantages and Disadvantages of Temple Knight Class
The Temple Knight class is a great choice for beginners for a few reasons. First, it has high endurance and vitality stats, making it a tank-like character that can take a lot of hits. This makes it an ideal choice for players who prefer a more defensive playstyle, as you'll be able to withstand attacks from even the toughest enemies. Additionally, the class comes equipped with a shield and heavy armor, which provides additional protection in battles. The shield can be used to block incoming attacks while the heavy armor increases your defense, making it harder for enemies to hit you.
Second, the class has access to both miracles (healing spells) and melee combat, giving players some versatility in their playstyle. This allows you to heal yourself mid-battle or buff your weapons to deal more damage, increasing your chances of victory.
However, there are also some disadvantages to the Temple Knight class. It has low dexterity and intelligence stats, which means it's not a great choice for players who want to use magic or ranged attacks. This can make it difficult to take on enemies from a distance or use spells to defeat them. Additionally, its starting equipment is heavy, which can slow down movement and make dodging attacks more difficult. This can be particularly challenging in boss battles where quick reflexes are essential for survival.
Tips for Playing Temple Knight Class
If you're choosing the Temple Knight class, there are a few things to keep in mind. First, focus on leveling up endurance and vitality early on, as these stats will help you survive longer in battle. Building up your endurance will allow you to block more attacks with your shield and wear heavy armor without getting fatigued. Vitality, on the other hand, will increase your health points, making it easier to withstand enemy attacks.
Second, practice parrying with your shield, as this can be a powerful tool in combat. Parrying involves blocking an incoming attack with your shield at the last moment, which stuns the enemy and opens them up for a counter-attack. This can be difficult to master, but it can be a game-changer in battles, particularly against tough bosses.
Finally, consider using miracles to heal yourself or buff your weapons, as they can be a valuable asset in tough battles. Healing spells can help you recover health points without using up your precious healing items, while weapon buffs can increase your damage output against tough enemies.
Recommended Source for Souls and Weapons: Farmgolds.com
If you're looking to purchase souls or weapons to give yourself a boost in Demon's Souls, we highly recommend checking out Farmgolds.com. This trusted site offers a wide range of items at affordable prices, and their customer service is top-notch. Plus, with their fast delivery times, you can start using your new gear right away.
In conclusion, if you're a beginner looking for a reliable class in Demon's Souls on the PS5, the Temple Knight class is a great choice. With its tank-like stats and versatile playstyle, it's a solid option for players just starting out. And if you're looking to purchase souls and weapons to give yourself an extra edge, be sure to check out Farmgolds.com for all your gaming needs. Remember to focus on endurance and vitality, practice parrying with your shield, and use miracles to your advantage, and you'll be well on your way to conquering Demon's Souls on the PS5.
The Best Demon's Souls PS5 Class for Beginners: Hunter Class
The Best Demon's Souls PS5 Class for Beginners: Wanderer Class
The Best Demon's Souls PS5 Class for Beginners: Magician Class
The Best Demon's Souls PS5 Class for Beginners: Thief Class
The Best Demon's Souls PS5 Class for Beginners: Soldier Class
The Best Demon's Souls PS5 Class for Beginners: Priest Class
The Best Demon's Souls PS5 Class for Beginners: Temple Knight Class
The Best Demon's Souls PS5 Class for Beginners: Knight Class
The Best Demon's Souls PS5 Class for Beginners: Royalty Class
May-06-2023