ESO Business Model-ESO Beginner Guide 2022: Everything You Need To Know
Tags: ESO Business Model,
Share To Your:
ESO Beginner Guide 2022: Everything You Need To Know Before Playing, in this Guide we're going to go through all the necessary information you need as a new or returning player in the world of Tamriel. From the MMORPG's business model and how the subscription works to the different races, classes, and skills you can choose for your characters. We'll also be providing some tips to help make your experience better if it's your first time to hop into ESO. If you've been searching for a comprehensive ESO Ultimate Beginner Guide in 2022, then this article/video is for you! Note that if you need help with where to go or what to do first, you'll want to check out our Game Progress Guide which will help you with just that.
ESO Beginner Guide 2022: Everything You Need To Know
Elder Scrolls Online is a huge game so much so that learning the gameplay mechanics from scratch can certainly be overwhelming, especially for new players. At the moment, ESO has 5 Expansions or Chapters, which always provide access to other regions in Tamriel as well as significant content that changes the way you play the game. Let's start with ESO's business model and what you'll be getting when you purchase the Standard Edition as opposed to the Blackwood Version.
ESO Business Model
The Elder Scrolls Online Standard Edition costs USD 19.99, which features the base game and the first Morrowind Expansion where you'll gain access to Vvardenfell, Battlegrounds PvP, and the Warden Class.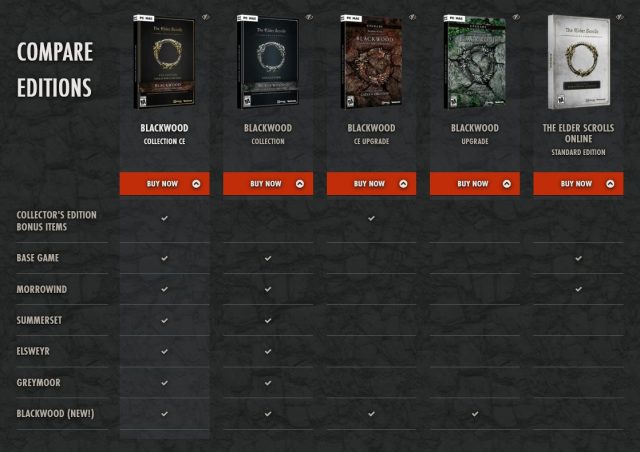 On the other hand, the Blackwood Edition costs USD 59.99, and it provides you with permanent access to the newest Blackwood Chapter, base game, and the rest of the expansions released in previous years. This includes Morrowind, Summerset, Elsweyr, and Greymoor. Choosing between these two one-time purchases depends on your familiarity with the Elder Scrolls universe, that is, if you've played Morrowind, Oblivion, and Skyrim in the past and what your budget might be like.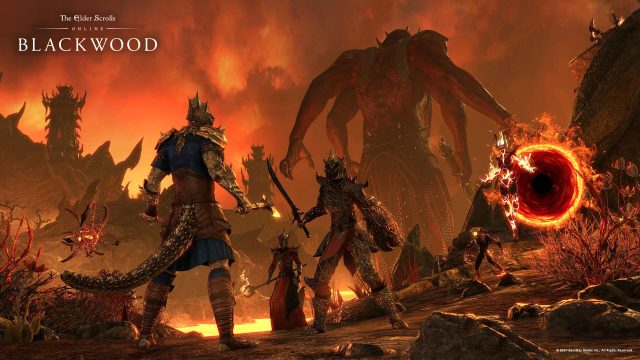 If you're entirely new, then the Standard Edition would be better for you to experience what Tamriel has to offer. But should you prefer to jump right into the game to play through more content, both old and new, then I highly suggest picking up the Blackwood Edition as it's hard to find better value for your money.
After making your purchase, you can start playing ESO without any subscription. However, there is ESO Plus, which is an optional monthly subscription that grants significant quality of life perks and access to all DLCs of the game as long as your subscription is active. The editions we've discussed a moment ago don't come with DLCs, just the expansions. DLCs are instead purchased using Crowns or ESO's premium currency, via the Crown Store. Furthermore, you can buy Houses, Furnishings, Mounts, and Outfits here as well. To receive more Crowns, you'll have to spend real-world money, and you'll receive some every month via ESO Plus if you have it.
ESO Plus costs USD 14.99 per month. In addition to all DLCs, you get double bank space for your account, and gold and experience bonuses. If you don't plan on playing almost everyday, then ESO Plus won't be beneficial for you. However, if you have the luxury of time, then the monthly subscription will definitely be worth it.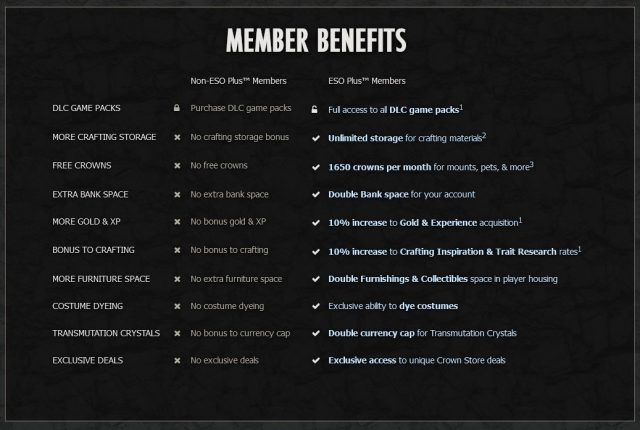 One of the biggest advantages of ESO Plus is the unlimited storage for crafting materials or the Craft Bag. Since you'll often be Questing, it's easy to accumulate a lot of stuff. Having infinite storage for all your crafting materials makes life simpler since you won't run into the trouble of constantly managing your inventory space by switching between alternate characters which can be tedious and frustrating. Of all the players I know who have ESO Plus, most subscribe for this one aspect alone.
These are the various ways of grabbing eso gold mats if you need them. Farmgolds.com an awesome ingame currency seller they are 100% Safe, Trustworthy and Always have Cheap prices if your in need of some cheap eso gold to help you out on getting your materials or even want to buy materials from them you can do that too! They also give back to their customers by entering them in a Lucky Gold draw at the end of the month for a chance to win some Free eso Gold! Good luck grinding out there !
Mar-07-2022