Players Can Earn Crown Crate Items in ESO Update 30
Tags: eso update 30, eso crown crates, radiant apex mounts eso, seals of endeavor, eso blackwood,
Share To Your:
Elder Scrolls Online Update 30 will arrive in June. When the update comes, you can earn Seals of Endeavor, which can be swapped for any of the currently available Crown Crate items, including the extremely rare Radiant Apex mounts.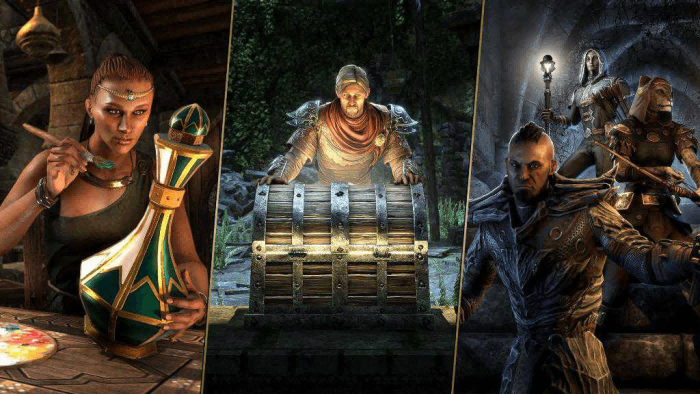 When Update 30 arrives, you can complete daily and weekly challenges known as Endeavors. Taking part in Endeavors rewards you TESO gold, experience, and a new currency called Seals of Endeavor.
How Endeavors Work
1. Log in to automatically receive your daily and weekly Endeavors.
2. Complete the different tasks, and here is a short list of tasks you can expect to see in the Endeavors system:
• Steal or pickpocket items
• Complete quests
• Defeat enemies using Class or Weapon abilities
• Sell items to vendors
• Craft different types of items
• Defeat different types of monsters
• Harvest resource nodes
• And many more!
There are even more activities that can be a part of completing Endeavors. Often, they'll be things you're already doing in your regular ESO adventures. There will be a cap on the number of daily and weekly Endeavors you can take part in, so be wary of how many you can take on.
The Endeavor menu will appear in the Activity Finder. You don't have to do anything to trigger them, as they are all active at once. Once you've reached the daily or weekly cap for completed Endeavors, the remaining ones are then deactivated.
What Are Seals of Endeavor Used to Buy
With the new Seals of Endeavor, you can obtain any of the currently available Crown Crate items you need to purchase with real money. These Seals of Endeavor allow you to unlock the same content by playing the game. Crown Crate items include pets, consumables (such as potions or XP scrolls), cosmetics, and extremely rare Radiant Apex mounts. But ZeniMax has officially confirmed that any Crown Crate items you acquire with Seals cannot be converted into gems.
There is no cap on the number of Seals you can acquire, so you don't need to worry about being forced to spend them. You can hoard them until a Crown Crate item appeals to you.
The ESO Update 30 will arrive in June. FarmGolds, as a top-ranked ESO gold seller, will keep providing professional service for you to enjoy the new adventure. We offer safe and cheap ESO gold for PC, PS4, and Xbox platforms. For players who don't have enough time to grind, buying ESO gold online allows you to catch up with other excellent gamers in the shortest time. We are confident that our high reputation and reasonable prices will attract you to place a trial order.
We also share helpful information about the game, so please bookmark our ESO news page for more content related to The Elder Scrolls Online.
Apr-20-2021