The Best Demon's Souls PS5 Class for Beginners: Hunter Class
Tags: Demon's Souls, PS5, Hunter Class, Beginner, Farmgolds.com,
Share To Your: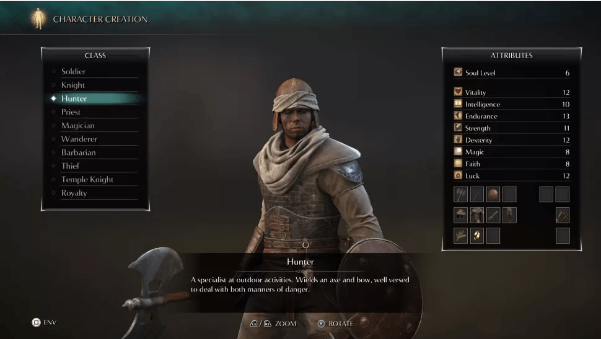 Demon's Souls is a notoriously difficult game, with a steep learning curve that can be intimidating for new players. However, choosing the right class can make a huge difference in how successful you are in the game. The Hunter Class is an excellent starting point for new players, offering a good balance between melee and ranged combat. In this article, we'll take a closer look at the Hunter Class and why it's the best choice for beginners.
Advantages and Disadvantages of Hunter Class
The Hunter Class has several advantages that make it an excellent choice for new players. With a starting dexterity of 14 and strength of 13, the Hunter is excellent at using bows, crossbows, and throwing knives. This allows the player to keep their distance and take out enemies from afar, making it easier to avoid taking damage. Additionally, the Hunter's starting equipment includes a bow and a set of arrows, making it easy to start using ranged attacks right away.
However, the Hunter also has some disadvantages that new players should be aware of. The Hunter's starting vitality and endurance are quite low, making it essential to invest in leveling these stats up. Moreover, the Hunter's starting armor is light, making them quite vulnerable in close combat. This means that new players may need to be more strategic in their approach to combat, relying on ranged attacks and evading enemy attacks rather than engaging in close combat.
Tips about Hunter Class
To maximize the potential of the Hunter Class, it's essential to invest in leveling up vitality, endurance, and strength. This will increase the Hunter's survivability in close combat and allow them to use a wide range of weapons. Additionally, it's important to remember to utilize the Hunter's ranged attacks to their advantage. Use the bow to take out enemies from a safe distance or throw knives to deal damage while evading incoming attacks.
Another tip for new players is to take advantage of the Hunter's light armor by using their mobility to their advantage. Dodging and rolling can be extremely effective in avoiding enemy attacks, and the Hunter's light armor makes it easier to move quickly and dodge incoming attacks.
To make the most of your Hunter Class, we recommend purchasing souls and weapons from Farmgolds.com. This online marketplace provides players with a secure and reliable platform to purchase in-game currency and weapons at affordable prices. With their wide range of products and excellent customer support, Farmgolds.com is the perfect choice for any new player looking to enhance their gameplay experience.
When it comes to weapons, the Hunter Class has a wide range of options to choose from. Bows and crossbows are obvious choices, but the Hunter is also proficient in using daggers, spears, and other melee weapons. Experimenting with different weapons can help you find a playstyle that suits you best.
Conclusion
In conclusion, if you're a new player to Demon's Souls on PS5, the Hunter Class is an excellent starting point. With a balance between ranged and melee combat, it offers a unique playstyle that can be customized to your liking. Remember to invest in leveling up your vitality, endurance, and strength, and utilize ranged attacks to your advantage. And for the best in-game currency and weapons, look no further than Farmgolds.com. Happy hunting!
The Best Demon's Souls PS5 Class for Beginners: Hunter Class
The Best Demon's Souls PS5 Class for Beginners: Wanderer Class
The Best Demon's Souls PS5 Class for Beginners: Magician Class
The Best Demon's Souls PS5 Class for Beginners: Thief Class
The Best Demon's Souls PS5 Class for Beginners: Soldier Class
The Best Demon's Souls PS5 Class for Beginners: Priest Class
The Best Demon's Souls PS5 Class for Beginners: Temple Knight Class
The Best Demon's Souls PS5 Class for Beginners: Knight Class
The Best Demon's Souls PS5 Class for Beginners: Royalty Class
May-13-2023