WoW TBC Hallow's End Mounts, Loot, and Quests Guide
Tags: wow tbc hallow's end guide, tbc classic hallow's end guide, wow tbc hallow's end 2021, wow tbc hallow's mounts, wow tbc hallow's loot,
Share To Your:
WoW TBC Hallow's End Guide - Mounts, Loot, and Quests
WoW TBC Hallow's End is right around the corner, starting on Oct 18 lasting until Nov 1, so all gamers will have two weeks to get all the amazing items. They will complete quests, dress up in various costumes, get candies, and ultimately challenge Headless Horseman!
Here FarmGolds.com would like to share some messages with you. Here's everything you need to know about TBC Hallow's End.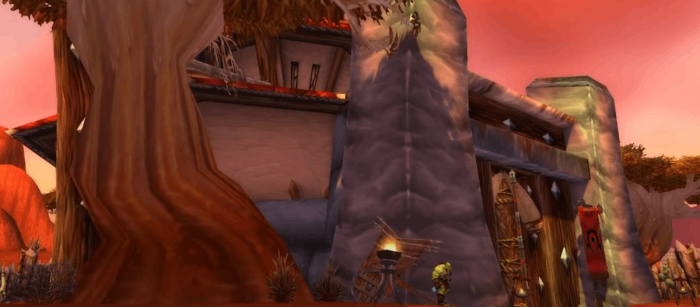 Headless Horseman Loot

There are some loot/items that will drop from Headless Horseman (as the image below showed).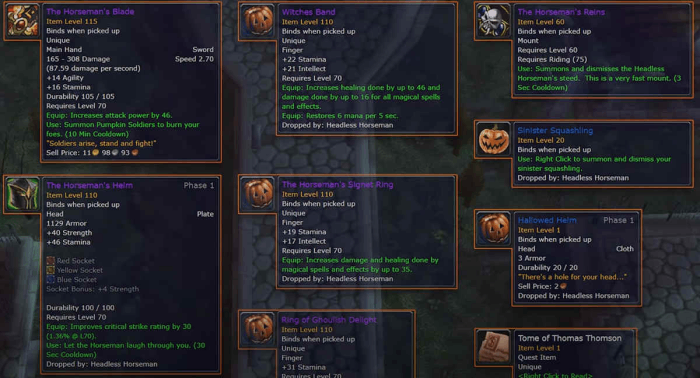 The Horseman's Helm is a nice plate helm with a nice 30-second cooldown. It's kind of fun. Three epic rings are powerful for casters, healers, melee, and ranged DPS. Sinister Squashing & Hallowed Helm and the incredibly rare Horseman's Reigns will also drop. This mount is a regular epic ground mount. It's everything you've ever wanted. The Horseman's Blade will also drop, and it's the same as Spiteblade. Moreover, you can summon Pumpkin Soldiers from The Horseman's Blade, but the big downside is that it is the main hand weapon, so you can't use it with weapons, such as Dragonmaw.
There are also consumable and seasonal items that disappear at the End of Hallow's End, such as Magic Broom and Weighted Jack-o'-Lantern.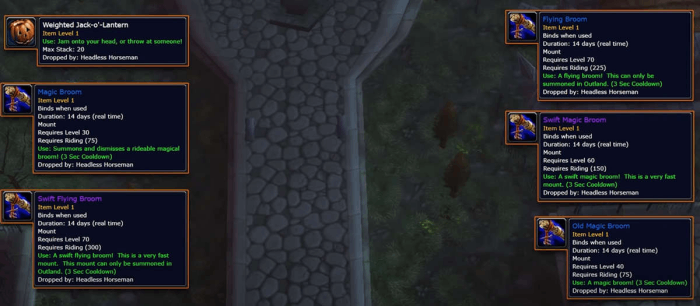 This image showed the drop chances of everything Headless Horseman can drop.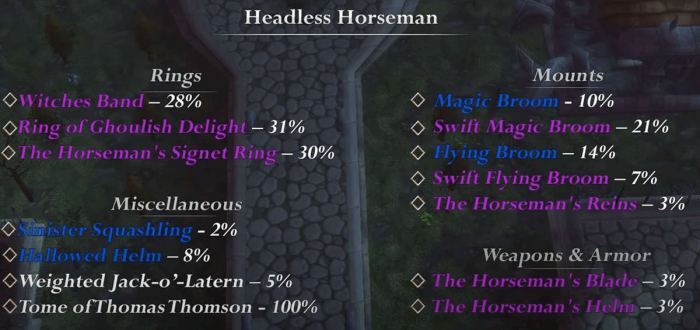 Headless Horseman
To get started, you can pick up a new quest called Headless Horseman and have a chance to get a really good epic loot and mount in TBC. It can be picked up in either Goldshire, Kharanos, and Azure Watch for the alliance or Razor Hill, Brill, and Falconwing Square for the horde.
You can only summon Headless Horseman once a day and get five attempts each day. If each group member has his quest available once you arrive at the Scarlet Monastery Graveyard, you can summon Headless Horseman. This quest is fairly simple, and you have to go and kill the boss - Headless Horseman.
Trick or Treating
Hallow's End wouldn't be complete without Trick or Treating. You can get a treat ranging from Masks, Wands, or Candy, which restores a percentage of your health, so it's actually useful at any level, or you can get tricky, being turned into a Frog, Snake, Ghost, Skeleton.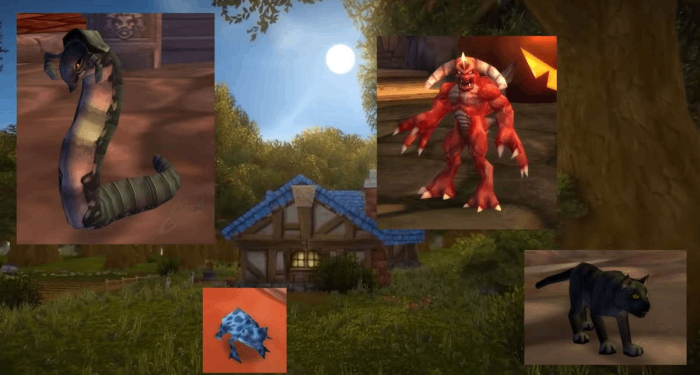 New World Drops
There will also be two new bags: Pumpkin Bag (a 16 Slot Bag) and Jack-o'-Lantern, which is an 18 Slot Bag, which will only drop during the Hallow's End event. Jack-o'-Lantern will be dropped from all mobs of level 60 plus and has a pretty low drop rate, and Pumpkin Bag will be dropped from all mobs of level 50 plus.
Hallow's End Quests
You can also grab Handfuls of Candy from candy buckets you find everywhere or do many seasonal quests, such as Hallow's End Treats for Jesper or Spoops. Depending on your faction to do this quest, you'll need to gather treats by doing different emotes at four major cities.
Chicken Clucking for a Mint
Dancing for a Marizpan
Flexing for a Nougat
Incoming Gumdrop
There are some quests for putting out Fire Training, Rotten Eggs in the brew, Stinking up Southshore, and Crashing the Wickerman Festival. The rewards for each of these quests are Hallow's End Pumpkin Treats.

Wickerman Ceremony
The last big part of Hallow's End is Wickerman Ceremony, going on outside of the undercity. Horde players can go there and loot a Wickerman ember after 8 pm server time. Invocation of the Wickerman increases health and mana regeneration by 25% and stamina by 25%, which is a petty awesome buff. If alliance players want to get this buff, they'll need to kill a Wickerman Guardian. They are level 60 elites. If you're arranged, you can kite them to a log about 20 meters south of the Wickerman, and then you can jump on and off the log to kill them easily.
All the content is quoted from Toyhouze's video.
Hallow's End Pumpkin Treat

These treats are actually nifty candies, transforming you into a skeleton, a pirate, or a ghost. It can also increase your size and give you a hint of orange throughout your body.
Lastly, you can visit our site to learn more TBC guides or tips. FarmGolds can offer cheap and fast WoW TBC gold and TBC Classic power leveling services, so when you need any of them, welcome to place your orders.
Oct-14-2021