OSRS Gold Gold for Sale
Trading Information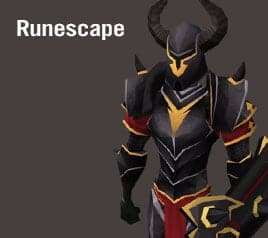 Why is OSRS Gold so Expensive?
One reason OSRS gold is expensive is that there are less sellers than there were in the past, which has pushed prices up as there is still demand. Another reason it's expensive is that OSRS gold prices are often compared to RS3 gold prices, which are cheaper. OSRS has not been played for as long as RS3. The result is that there is less gold in the economy, making the gold more expensive.
OSRS gold can be bought from gold sellers. Across the web, there are plenty of different methods for buyers to look for gold sellers. These include joining through forums, using marketplaces, searching through social media, though there are more. Of these methods, online marketplaces are generally the most popular. Some gamers feel a bit safer trading through marketplaces rather than contacting sellers directly for their gold.
Old School RuneScape Gold is the official in-game currency of OSRS. They are virtual property inside the player's inventory that can be earned by completing different activities in the game such as killing monsters, completing quests, and selling items to other players. There is, however, a limit to how much gold you can have. The most that a player can have at any given time is 2,147,483,647 coins.
Where Do Gamers Buy OSRS Gold?
As aforementioned, some of the most popular places where gamers gather to complete trades and buy OSRS gold are online forums, marketplaces, and social media. Online forums and social media tend to involve completing transactions with a seller by contacting them directly and working out details. Online marketplaces broadly offer the infrastructure needed for payment protection, dispute resolution, and ratings-and-reviews systems.
About OSRS Gold
How Much is OSRS Gold Worth?
The prices of OSRS Gold fluctuate and differ from seller to seller. That's why Market Price Tracker tools are used to find up-to-date rates on OSRS.
Why is OSRS Gold Worth More than RS3 Gold?
OSRS gold seems to be worth more than RS3 gold because there is a lot more gold in the RuneScape economy. This is a result of the lifespan of RS3 which have resulted in many more rewarding gold-making methods available. This also means that items in RuneScape appear to cost more in terms of gold coins. The differences in the price between OSRS and RS3 gold becomes apparent when swapping gold.
How do you farm OSRS gold?
You can find some of the best ways to make gold in Old School RuneScape on our OSRS Wiki page!
Can You Trade RS3 Gold to RS07?
Sure, but it's a risky process called 'trust trading' or swapping. It involves trading RuneScape gold to another player in RS3. Then, in Old School RuneScape, that same player will trade OSRS gold. It's an easily exploitable method, so be careful if you decide to try this out. Remember, gold is more valuable in OSRS than RS3, so conversion rates will apply when trust trading. For example, 6 million gp from RS3 may convert to less than 1 million gp in Old School RS.
Can You Buy Old School Bonds on RS3?
You cannot buy Old School Bonds on RS3. However, when you use a bond from either game, membership unlocks for both. The only requirement is that your game accounts are linked to the same account as the bond is applied to the account, not the game itself.
What Should I Spend My Old School RS Gold on?
RS07 has lots of features and items for you to spend your gold on. You can buy powerful weapons, equipment, accessories, skills and items on the Grand Exchange.
---

Buy RuneScape 3 Products from www.farmgolds.com, Cheap Rs3 Currency, items, powerlevling serive with safe & fast delivery!

FarmGolds is the Best Place to Buy OSRS 07 Gold for sale. We can offer Cheap OSRS 07 Gold with Fast and Safe delivery, 24/7 customer service!