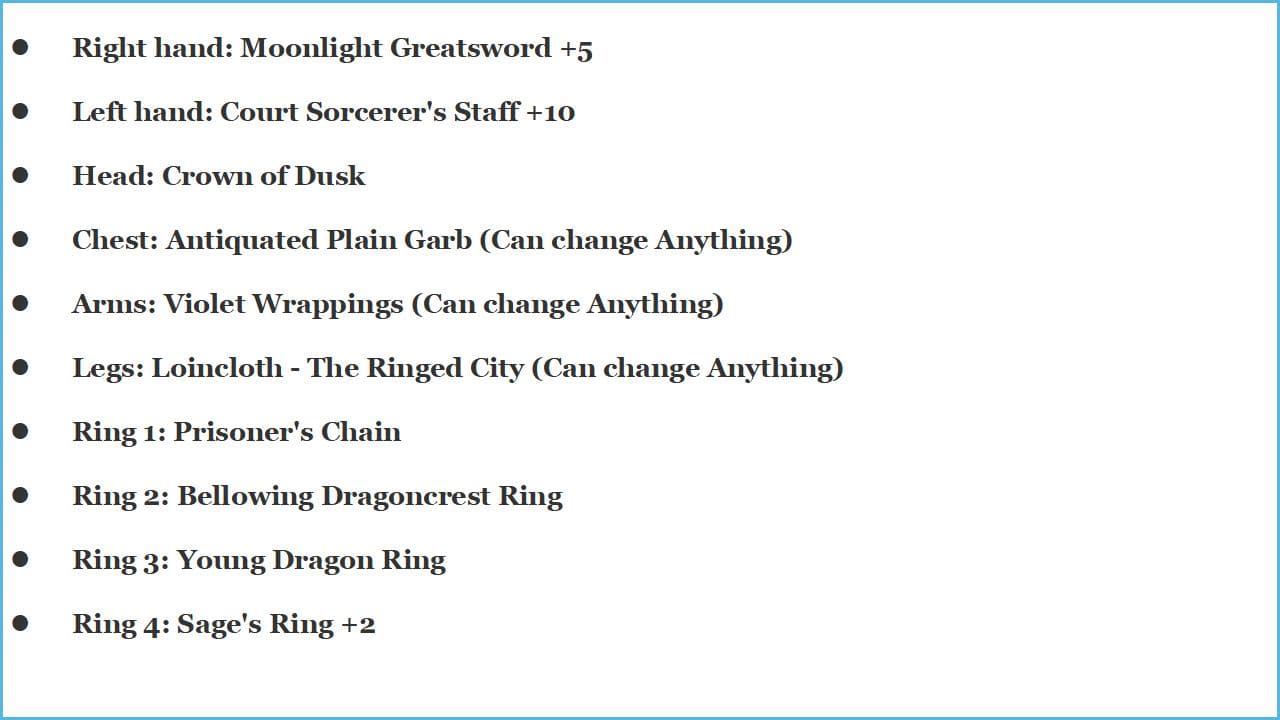 Build Overview
Renowned for being one of the only DS3 greatswords meant for Intelligence builds, the Moonlight Greatsword is understandably an awesome choice for mages, as it possesses great stats that give spellcasters a solid melee weapon. Combining the usage of this legendary blade with reliable sorceries is a top-tier combo that any aspiring Intelligence build can take advantage of.
PVP Tips
Due to the iconic nature of the blade, everyone will know exactly what to expect when the player shows up with it in hand. This can make landing strikes difficult as the opponent will be able to predict one's attacks with relative ease, therefore one will likely have to open up an assault with a spell to throw the enemy off. Quick sorceries like Great Farron Dart can provide sufficient guerilla tactics to force the adversary into making a mistake that one can capitalize on with a Moonlight Greatsword combo.
PVE Tips
The Moonlight Greatsword is a classic weapon choice for Intelligence builds throughout many FromSoftware games. As one of the few great weapons that scale this well with Intelligence, it's always a fun addition to an otherwise ranged attack-heavy playstyle. Though, with that said, the weapon skill of the Moonlight Greatsword can allow it to be effective at mid-ranged attacks as well if the user can line up their strike properly.
Stats
Soul Level: 120
Vigor: 40
Attunement: 24
Endurance: 30
Vitality: 12
Strength: 21
Dexterity: 18
Intelligence: 60
Faith: 7
Luck: 12
²
Equipment
Right hand: 8
Moonlight Greatsword +5
Buy Moonlight Greatsword-(MAX UPGRADED)-(DarkSouls3) - FarmGolds
Left hand: 8
Court Sorcerer's Staff +10
Buy Court Sorcerer's Staff-(MAX UPGRADED)-(DarkSouls3) - FarmGolds
Head: 6
Crown of Dusk
Buy Crown of Dusk-(DarkSouls3) - FarmGolds
Chest: 6
Antiquated Plain Garb (Can change Anything)
Buy Antiquated Plain Garb-(DarkSouls3) - FarmGolds
Arms: 6
Violet Wrappings (Can change Anything)
Buy Violet Wrappings-(DarkSouls3) - FarmGolds
Legs: 6
Loincloth -(The Ringed City) (Can change Anything)
Buy Loincloth -(The Ringed City)-(DarkSouls3) - FarmGolds
Ring 1: 3
Prisoner's Chain
Buy Prisoner's Chain-(DarkSouls3) - FarmGolds
Ring 2: 3
Bellowing Dragoncrest Ring
Buy Bellowing Dragoncrest Ring-(DarkSouls3) - FarmGolds
Ring 3: 3
Young Dragon Ring
Buy Young Dragon Ring-(DarkSouls3) - FarmGolds
Ring 4: 8
Sage's Ring +2
Buy Sage Ring +2 -(DarkSouls3) - FarmGolds