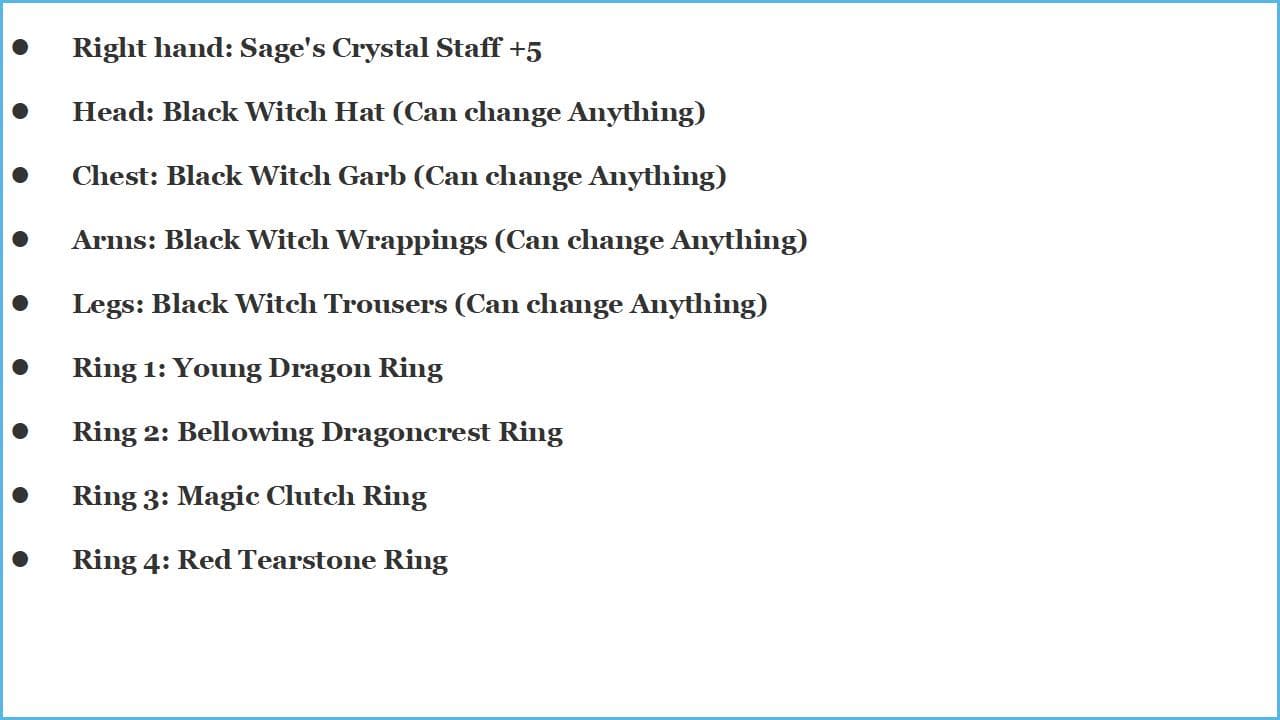 Build Overview
For overwhelming magical power at the cost of sacrificing every bit of defense, players can put together a one-shot build to become the deadliest of the glass cannons. The Youtuber Mood Master came up with this mighty mage tactic in 2017 that uses a colossal 99 Intelligence stat for overkill sorceries.
PVP Tips
This immensely powerful mage build is a one-trick pony that relies on blasting enemies with a supercharged Crystal Soul Spear. It is not advised to try this build with heftier sorceries like White Dragon Breath and Soul Stream as they take too long to cast and can be dodged easier. Players seeking success should play evasively to lure enemies into situations where they can't avoid a spell, otherwise, the caster will meet a quick end due to having very little HP and defense.
PVE Tips
Since this build relies heavily on huge singular magic attacks, there are plenty of openings for enemy counterattacks. Players can dish out powerful sorceries, however, they will be vulnerable due to low HP. Trying to land big hits on every enemy is not advised, so bring some other faster spells like Great Heavy Soul Arrow.
Stats
Soul Level: 120 (approximately)
Vigor: 14
Attunement: 26
Endurance: 18
Vitality: 11
Strength: 16
Dexterity: 9
Intelligence: 99
Faith: 15
Luck: 11
²
Equipment
Right hand: 8
Sage's Crystal Staff +5
Buy Sage's Crystal Staff-(MAX UPGRADED)-(DarkSouls3) - FarmGolds
Head: 6
Black Witch Hat
Buy Black Witch Hat-(DarkSouls3) - FarmGolds
Chest: 6
Black Witch Garb
Buy Black Witch Garb-(DarkSouls3) - FarmGolds
Arms: 6
Black Witch Wrappings
Buy Black Witch Wrappings-(DarkSouls3) - FarmGolds
Legs: 6
Black Witch Trousers
Buy Black Witch Wrappings-(DarkSouls3) - FarmGolds
Ring 1: 3
Young Dragon Ring
Buy Young Dragon Ring-(DarkSouls3) - FarmGolds
Ring 2: 3
Bellowing Dragoncrest Ring
Buy Bellowing Dragoncrest Ring-(DarkSouls3) - FarmGolds
Ring 3: 3
Magic Clutch Ring
Buy Magic Clutch Ring-(DarkSouls3) - FarmGolds
Ring 4: 3
Red Tearstone Ring
Buy Red Tearstone Ring-(DarkSouls3) - FarmGolds